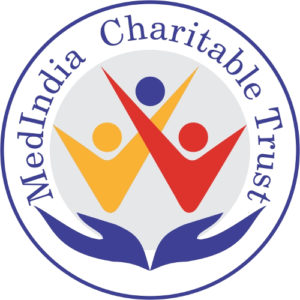 MedIndia Charitable Trust (www.medindiatrust.com) has been established with the objective of providing healthcare services to the poor, needy, down trodden and the differently abled children and school students and persons with disabilities by conducting free medical camps, public health awareness programs, public health exhibitions and providing concessional and / or free treatment , wherever and whenever possible.
Medindia charitable trust aims at implementing novel innovative projects which would benefit scores of general public and in particular persons with disabilities.
MedIndia Charitable Trust registered u/s 12A(a) of the Income Tax Act, 1961 vide C.No. 127(107)/06-07/CIT-I/CBE dated 26/9/2007. It is a sister organisation of MedIndia Hospitals. The trust has 80G income tax exemption
The Trust has also been registered with the office of the State Commissioner for the Welfare of Differently Abled, Chennai vide his proceedings No. 2225/ST2/2014 dated 19-5-2014.
The logo of Medindia charitable trust illustrates we are for the welfare of the underprivileged,downtrodden, tribal population, destitute and differently abled and our efforts will and shall have snow ball beneficial effect in and for the society.
Padma Shri Awardee Dr. T.S. Chandrasekar, MD, DM, D.Sc, FRCP, FASGE is the Founder and Managing Trustee of MedIndia Charitable Trust and Founder Chairman & Chief Gastroenterologist of MedIndia Hospitals, Chennai.