WORLD DIGESTIVE HEALTH DAY
29TH MAY, 2021
"Obesity – An Ongoing Pandemic"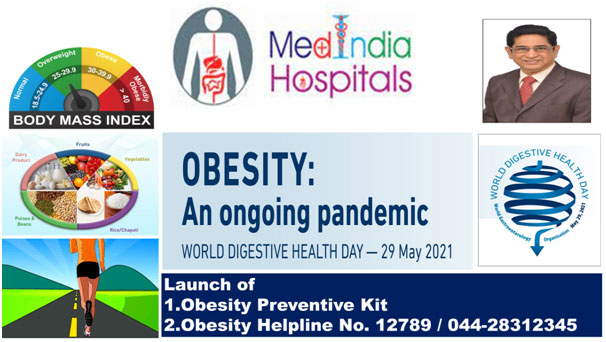 Obesity does not come alone, rather it brings with it, disease conditions such as Diabetes, Hypertension, cardiac ailments, high cholesterol, ortho problems, arthritis, cancer, stroke, sleep apnoea, asthma, liver and gall bladder disease and reproductive problems.
The best way to treat obesity is to prevent it. Is there anything best to achieve this? Yes! A preventive kit is the need of the hour.
During pandemic, obese persons otherwise healthy may have restrictions in visiting a hospital and consulting a physician. Hence, MedIndia Hospitals has brought in this new initiative – Obesity preventive kit.
MEDINDIA HOSPITALS OBESITY PREVENTIVE KIT
Dr.T.S.Chandrasekar, Chairman, MedIndia Hospitals, Nungambakkam, Chennai has launched a new initiative, OBESITY PREVENTIVE KIT to provide online obesity preventive, counselling and treatment measures for paediatric to geriatric population. This Obesity preventive kit is a digital awareness, self-assessment hand out accessed through a web link.
This initiative shall be implemented through the ENDO-BARIATRIC Department of MedIndia Hospitals, Nungambakkam, Chennai.
Step 1:
Body Mass Index of an individual is calculated by his weight in kgs divided by height in square metres (normal BMI 18.5 to 24.9).
Calculate your own BMI (Body Mass Index)