Help Desk
Toll Free : 12789
Phone : +91 44 28311415,
+91 44 28311001.
Treatment Profile
Difficulty in swallowing, painful swallowing, anemia, weight loss, jaundice, blood vomiting, bleeding per anus,
FACILITIES
IDCU, ILCU, IPCU, (SICU), Esophageal Lab, Advanced Biliary & Pancreatic Endotheraphy, Dialysis Unit, Advanced Viral Hepatitis Laboratory
Medical Specialities
Medical Gastroenterology, Surgical Gastroenterology, Advanced Therapeutic Endoscopy, Diagnostic & Interventional Radiology
MEDINDIA HOSPITALS – A BRIEF OVERVIEW
MedIndia Hospitals, Chennai a "Centre of Excellence in Digestive Diseases" affiliated to The Tamilnadu Dr. MGR Medical University, is a super speciality digestive disease institution of international repute equipped with latest state of the art equipment, diagnostics, surgical facilities and medical professional on par with international standards. It is an one of its kind tertiary care centre offering comprehensive G.I. care facilities under a single roof. It has been the first institution to conceive and execute the idea of Esophageal Lab and Intensive Digestive Care Unit (IDCU).
MedIndia Hospitals is equipped with latest medical equipment such as C-ARM with DSA, Endo Ultra Sonograph, Argon Plasma Coagulator, High Resolution G.I. Manometry, 24 Hour Esophageal pH Recorder, Holmium Laser Lithotriptor, Video Balloon Enteroscope, Spy Glass Cholangio Pancreatoscope, H2 Breath Test Analyser, Colorectal Manometry, Defecography and Capsule Endoscopy.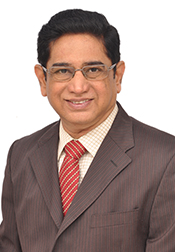 Padma Shri Awardee Dr. T.S. Chandrasekar, MD, DM, FRCP (London, Edinburg, Glasgow, Ireland), D.Sc, FACG, FASGE, MWGO is the Founder and Chief Gastroenterologist of MedIndia Hospitals, Chennai, India, a tertiary care training and research institution for gastroenterology, affiliated to the prestigious The Tamil Nadu Dr. M.G.R. Medical University. He is a Ph.D guide and expert committee member for the Curriculum Department and Adjunct Professor of the same University. He is the Convenor of MedIndia Research Foundation, Founder and Managing Trustee of MedIndia Charitable Trust and Chief Organiser of MedIndia Academy. He is a Nominated Member of the Tamil Nadu State Advisory Board on Disability, Chennai.
(https://en.wikipedia.org/wiki/T._S._Chandrasekar).
Masters of the World Gastroenterology Organization (MWGO) Awardee (2019)
Community Service Award by the American College of Gastroenterology (2019)
RENNY ABRAHAM TANKER FOUNDATION LOVER FOR SERVICE AWARD, by the Tanker Foundation, Chennai (2019)
INTERNATIONAL COMMITTEE MEMBER (India Region), American Society for Gastrointestinal Endoscopy.
ADJUNCT PROFESSOR of the Tamil Nadu Dr. M.G.R. Medical University