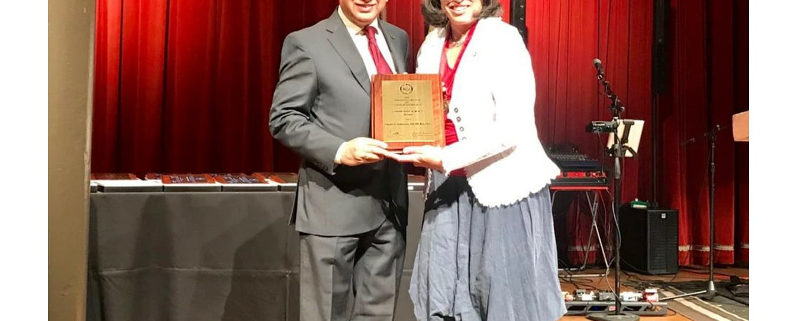 THE FIRST INDIAN GASTROENTEROLOGIST AND THE FIRST ONE OUTSIDE AMERICA (NON AMERICAN) to be honoured with the "COMMUNITY SERVICE AWARD – by the American College of Gastroenterology on "Padma Shri Awardee, Prof. T.S. Chandrasekar, Chennai based Interventional Gastroenterologist".
THE AMERICAN COLLEGE OF GASTROENTEROLOGY (ACG), an USA based medical association of gastroenterologists, founded in 1932 with over 14,000 physicians from 86 countries as members, has honoured Prof. T.S. Chandrasekar, Chairman & Chief Interventional Gastroenterologist of MedIndia Hospitals, Chennai, with the "COMMUNITY SERVICE AWARD". Dr. Sunanda V. Kane, President, American College of Gastroenterology, presented the award to Prof. Chandrasekar during the Annual Scientific Meeting of the ACG, on 26th October, 2019, at San Antonio, Texas, USA.
The ACG in its Award Souvenir has noted that this award is a recognition of Dr. Chandrasekar's dedication to serving populations in need, in his local community at Chennai, India and for improving the Health Care Access for the Underserved Citizens of India and for the spirit of service and innovation. Some of these first of its kind initiatives include, Braille Charts for the Blind and Health Cards for the Deaf on Hygienic Health Tips, nutritional deficiency rectification, Toll Free Digestive Diseases Helpline, QR coded life-saving emergency medical care card (emc2), public information website for digestive diseases awareness and Short Films on G.I. adjacent topics such as Hepatitis, alcohol use disorder recovery, personal hygiene and environmental issues such as water conservation and air pollution.
https://www.medindiahospitals.com/medindiahospitals/uploads/2019/10/Award-Presentation-Photo.jpg
776
800
jbadmin
http://www.medindiahospitals.com/medindiahospitals/uploads/2018/03/logo.jpg
jbadmin
2019-11-02 12:38:05
2019-11-13 08:36:45
Community Service Award by the American College of Gastroenterology